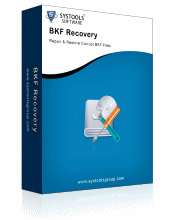 Open BKF File & Extract MS Backup File
How to Repair BKF File? Corruption in BKF files can happen due to reasons like missing catalog files, hardware crash, OS malfunctioning, FAT file system has low storage space, virus attack etc. To deal with such corruption scenarios and recover BKF file in best possible manner, you can use BKF Recovery software. This software application is applauded by numerous users due to advanced scanning algorithms and simple interface to recover BKF file. With this best way to restore BKF file, you can recover backup data created using NTBackup utility, Backup Exec by VERITAS and other utilities that support Microsoft Tape Format.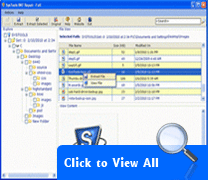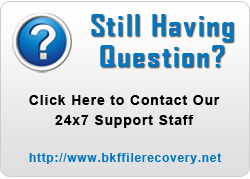 Guide to Know How to Open Corrupt Backup File?
Video of BKF Repair Tool
Watch Out free video of BKF Repair Tool that is an easy way to application attributes.

E-Book of BKF Repair Tool
E-Book is the medium that provides complete details about software in .pdf file format.
Start SysTools BKF Recovery. Go to Start » Programs » SysTools BKF Repair. Open SysTools BKF Repair, start-up screen appear as follows: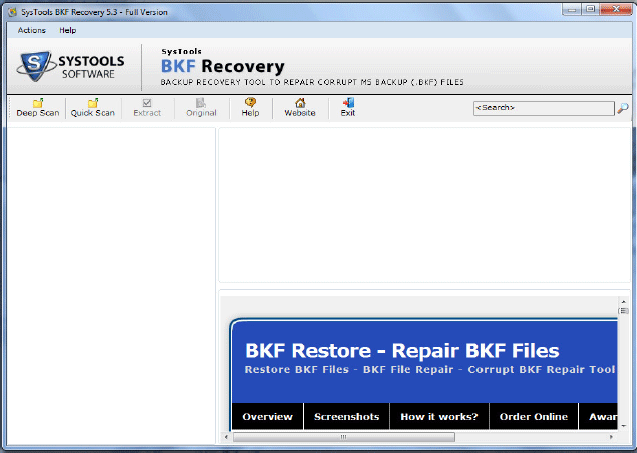 Open Corrupt Backup File
Click on Load button to quickly open corrupt BKF file and explore bkf file contents.

Open corrupt backup (.bkf) file where it is saved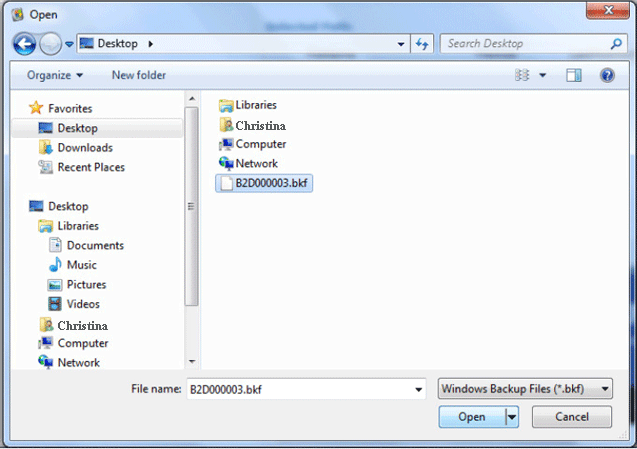 SysTools BKF Repair start loading all files and folders from corrupt BKF file in Windows explorer like structure as shown below: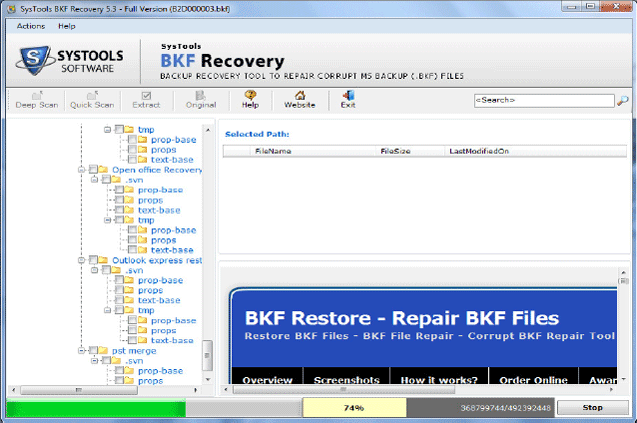 After successfully loading the corrupt BKF file, you can view files & explore files in BKF file. To view content of the file, select file, right click the file then choose View File from popup menu just as shown below: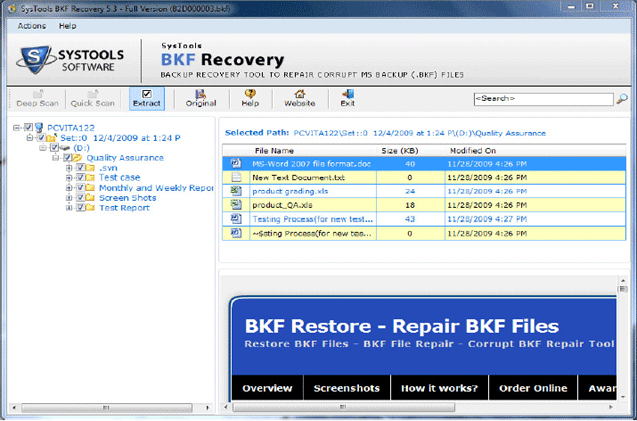 SysTools BKF Reader tool allows user save contents of the BKF file after viewing the contents. To Extract files & folders from BKF file follow the steps below:
Extract Files from BKF File
To extract specific files from BKF file, locate that particular file and select the file from File View, Right click the file then select Extract File from popup menu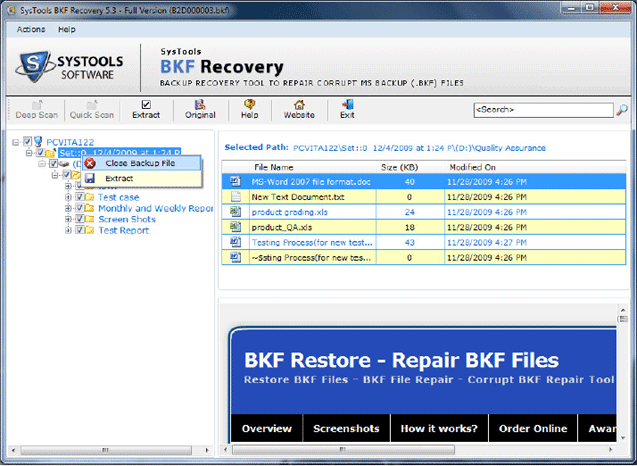 For performing the function of Partial Scan, click the "Actions" menu on the toolbar of the software. Select "Partial Scan" option from the drop down menu as shown below:
A new and advanced feature has been updated in version 5.3 of SysTools BKF Repair tool and that is of "Partial Scan". This feature is useful in recovering small amount of data from a large sized BKF file. For any large sized file, you can quickly do partial scan if you need only small amount of data from it.

After you click on Partial Scan, following window will appear:
Enter a value for Partial Scan.
What is this value? The value that you will enter is the percentage of data that will be extracted from the selected large sized BKF file. (For example – if you enter a value (say 25), then the software will recover only 25% of data from the selected large sized BKF file. This will save your precious time greatly.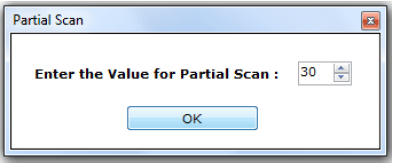 After Partial Scan completes, you can see the preview of selected files as shown in the following screenshot: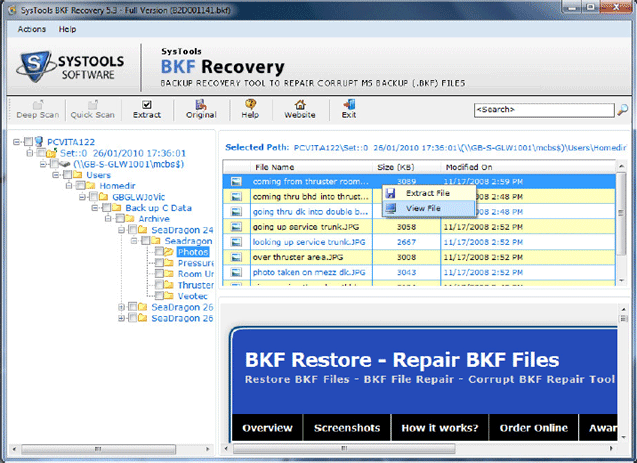 Related Articles
Freeware Utility
Open BKF File & Read BKF File using SysTools MS BKF Reader Tool at SysTools Software
Read Corrupt BKF Files with BKF Recovery Software & MS Backup Reader Tool
Open NTBackup File with BKF Recovery Tool :: Site Powered by: SysWare CMS – Complete Site Management Solution
Copyright | Terms & Condition | Privacy Policy | Sitemap  | XML | Urllist |  Getting Started | How to | FAQs | Knowledge Base